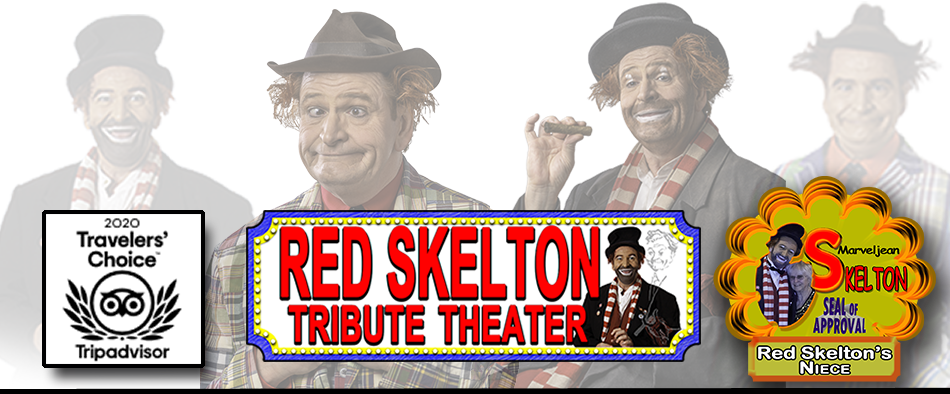 Personal Appearances
Planning a party or Corporate event??
Even though Brian Hoffman performs shows in Las Vegas on a regular basis, he is STILL AVAILABLE for functions and events all around the world.
Brian Hoffman has been impersonating Red Skelton for over five years and is available for corporate and private events.
Throwing a party and need a professional celebrity impersonator to mix and mingle with guests?
Brian Hoffman is your man as Red Skelton.
Brian can also appear as some of Red Skelton's characters.
Need a foolhearted fellow to chat with the guests? Clem Kadiddlehopper is your man.
Freddie the Freeloader was the hobo who lived in the city dump, but can add class to any party.
___________________________________________________________________________
We cannot give a price quote without answers to these questions!
* Your Name:
* Your Contact Phone Number:
* Name of Company or Organization:
* Email Address and/or Website:
* Type of Event (Corporate, Private Party, Fundraiser, etc...) :
* Location of Event: (City, State, Venue) :
* Approx. number of People at Event:
* Time of Day for Performance:
* How Long of a Performance are you looking for?
* Name of Nearest Airport to Event:
* Travel Time to/From Event to Airport:
* What has been budegeted for entertainment in the past?:
* Will there be any other entertainment/performers? If so what kind?:
* If it's a 'Meet and Greet" w/photo opps, how long is the Event?:
* If more than a 'Meet and Greet' how long of a performance are you planning for?:
In most cases: Airfare from Las Vegas, ground transportation, and lodging are considered to be a separate fee from the performance fee and are to be paid by or re-embursed by client.